elcome to woodskier.com -- home of Kim Brown, a.k.a. "The Scribe" and author of the "Skibum Corner" a regular feature in the Stowe Reporter. I am also the author of the Inside Line, a newsletter published for Stowe Mountain Resort. For those whose images of skiing in northern Vermont are composed primarily of ice and "hard snow" I am afraid that a visit here may disillusion you -- you will discover that it is powder skiing on which the locals thrive. (Though a few icy days along the way have taught us all the value of a carved turn.)

---

This web site is first and foremost dedicated to the thrill of skiing (or riding) powder wherever it can be found. In this part of the world -- Stowe, Vermont -- the powder is shy and tends to live mostly in the woods. Of course that makes it a bit more thrilling and perhaps inaccessible for 95% of the ski world.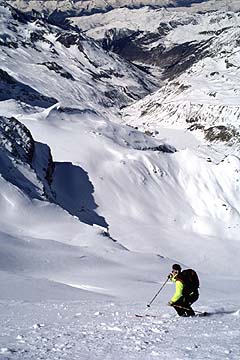 On the site you will find the current edition of the Skibum Corner as it appears each week in the Stowe Reporter. (In time you will also find back issues.) Remember as you browse the column that The Scribe is a columnist and not a journalist. He has never felt a need to pay full obeisance to the truth. In fact he is even known as a bit of a b.s.er. Approach all commentary with reasonable suspicion. (Hey at least I'm honest about it, unlike those national guys who act like they're above reproach.)
In the summer there is a column devoted to the activities of local skiers in the summer -- golf, mountain biking, kayaking, fishing and telling lies about how good the winter was.

Left - A photo of The Scribe skiing the Grand Motte Glacier at Tignes in France. Photo courtesy of Peter Inglis, native Vermonter, pro patroller at Telluride, extreme skier and photographer extraordinaire, guide to the masses and raconteur.

Much to the amazement of those who know him, The Scribe also has a real job -- designing houses and commercial buildings. At the heart of this design and drafting service are the 3-d images drawn from models created in Chief Architect (the premier design package for residential builders and designers.)
There is work from several exceptional photographers whose work reveals the glory of skiing here and also in other powder-filled parts of the world. (There are links to these folk.)
Stowe is also home to a plague of ski/snowboard scribes, known locally as the Scribe Tribe. This is not surprising since if you live in the East and wish to write about skiing you might as well settle here at the best lift-served terrain east of the Mississippi. Need free-lance material or just some good perspective on skiing/riding in Vermont visit my friends. (Joe Cutts, John Dostal, David Healey, David Goodman, Josh LaRonge, Carl Wrighton).